Support of the opposition of the patent on salmon
Animals are not an invention of the animal feed industry!
Dear Sir or Madam,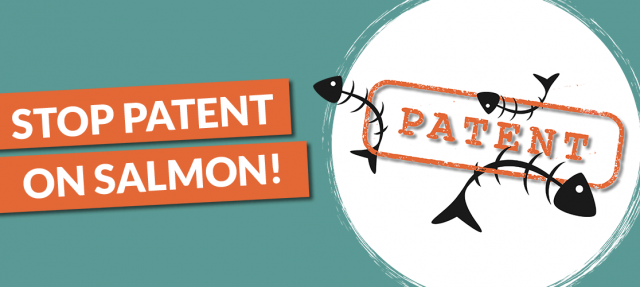 I oppose the granting of patent EP1965658, claiming fish food, the keeping of salmon, salmon itself and their fish oil as an invention. The alleged invention is that special feed is administered to the fish to increase the concentration of omega-3 fatty acids in products such as fish oil. According to the patent specification, the animal feed can either come from conventional breeding or be genetically modified. The patent must be revoked in particular for the following reasons:
 The patent is not inventive. If animals can be declared an invention just because they are fed specific feedstuffs, then very soon we will see pastured cattle and pigs being patented. Such patents can have a very direct and immediate effect on agriculture. In such circumstances, farmers would not be allowed to milk a cow without permission from the patent holder, or to slaughter a pig, or sell chicken eggs. 
The patent is not new. It is known, for example, that the milk from pasture-fed cows has a higher content of the fatty acids as described in the patent. Thus, it is not surprising that changes in the composition of the feedstuff also change the composition of the food derived from these animals. 
The patent also infringes Article 53a of the EPC, which prohibits patents whose use violates fundamental ethical values. If livestock are patented, it is to be feared that animal welfare suffers from the profit interests of the corporations, which want to get maximum profit within the term of the patents.
I urge you to revoke the patent, to respect the existing prohibitions and, in principle, not to grant patents on plants and animals.
You can submit your support until 20 June 2019. If you prefer, you can send your signature as well via post by filling out the pdf form below.
We ask organizations who want to support the opposition to send an email to johanna.eckhardt@no-patents-on-seeds.org confirming that your organization wants to support the opposition.
You can find further info about the patent on salmon here.
Downloads