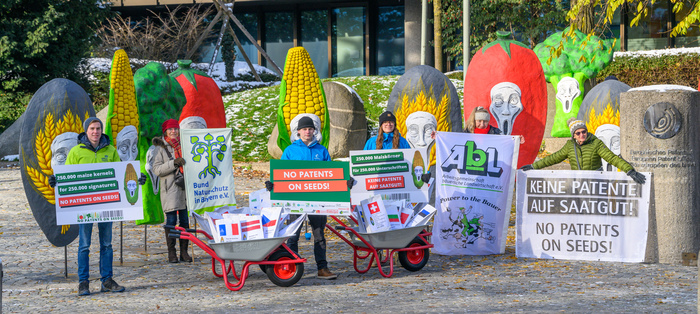 On 13 December 2022, the international coalition of No Patents on Seeds! handed over 250.000 organic maize kernels to the European Patent Office (EPO). Each kernel represents a signature on a current petition against patents on conventionally-bred plants. The demands are supported by more than 70 organizations from 18 countries. The protest took place to coincide with a meeting of the Administrative Council, and focused also on a patent recently granted to the German company, KWS. This patent includes non-genetically engineered maize plants.
Find the press release here (13 December 2022)
For photos in high resolution please contact johanna.eckhardt@no-patents-on-seeds.org. 
Photos: Falk Heller
Sculptures: Freia Hellenkamp