No Patents on Seeds! protest in front of the European Patent Office
13 December 2022 / The international coalition of No Patents on Seeds! will today be handing over 250.000 organic maize kernels to the European Patent Office (EPO). Each kernel represents a signature on a current petition against patents on conventionally-bred plants. The demands are supported by more than 70 organizations from 18 countries. The protest will take place to coincide with a meeting of the Administrative Council, and will also focus on a patent recently granted to the German company, KWS. This patent includes non-genetically engineered maize plants.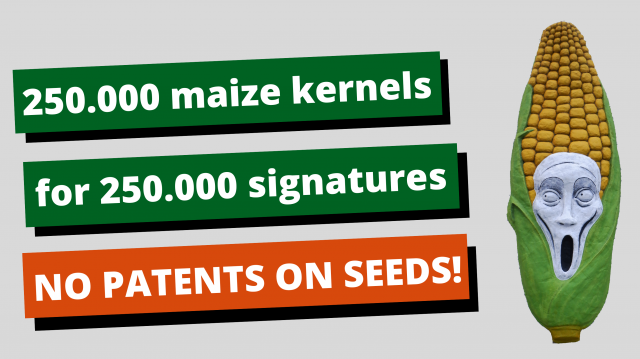 Their representatives are meeting today at the Administrative Council. No Patents on Seeds! is calling for clarifications in patent law to ensure that only technical inventions are patented and not common breeding techniques or the biological diversity needed for plant breeding.
"Traditional plant breeding must not be hindered or restricted by patents on seeds. The breeders' exemption guarantees breeders the free use of all plant varieties on the market to breed improved varieties. This is the only way to ensure the necessary diversity in plant breeding in the future," says Grietje Raaphorst-Travaille from Nordic Maize Breeding which provided the kernels for the handover today.
The German small farmers organisation, AbL, is supporting the protest in Munich to safeguard the future of agriculture: "Monopolies on seeds must be prevented so that farmers do not fall into the stranglehold of the seed multinationals. We are demanding freedom for seeds and an end to the abuse of patent law," says Andrea Eiter from AbL.
The No Patents on Seeds! petition demands that loopholes in the interpretation of patent law are closed. In fact, European law prohibits patents on conventional breeding as well as on plant varieties. Current EPO practice, nevertheless, aims to circumvent these prohibitions.
Contact
Further information
Photos of the activity will be available on 13 December afternoon under this link: https://www.no-patents-on-seeds.org/en/activities/maize
The petition: https://www.no-patents-on-seeds.org/en/petition
The report about the KWS patents:
https://www.no-patents-on-seeds.org/en/publications/KWS
You can share our posts about this press release on Facebook and Twitter or share the
link to our homepage of this press release: